How to Clean a Car Windshield Inside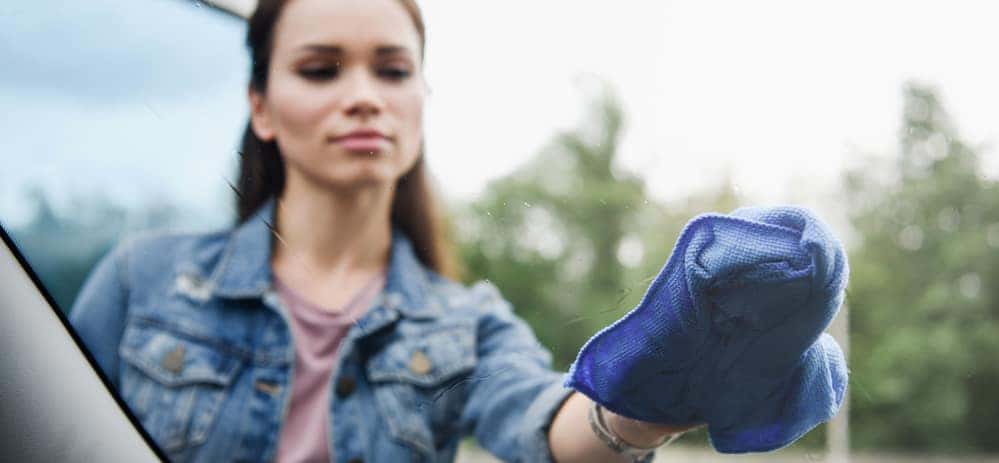 Getting the dirt off the outside of your window can be as simple as driving through a car wash, but what do you do to get the inside clean? When it comes to cleaning inside, the windshield and windows are pretty simple to do. First, you'll just need to acquire a microfiber towel, glass cleaner, and rubbing alcohol. Then follow these steps to increase visibility and get rid of distracting streaks for your Arlington commutes.
How to Clean Inside Car Windshield & Windows
If the world outside your windshield starts looking a little blurry, you may want to clean the inside of your windshield.
The first step is to wipe down the glass with a microfiber cleaning cloth. That will remove any grime or dirt that's on the windshield.
Next, spray your microfiber cleaning cloth with your preferred brand of glass cleaner and wipe down the inside of the windshield. This should get any remaining substances off the windshield.
One tip Cordova drivers may not have known is that applying rubbing alcohol cuts the grease that can build up on the glass and ensures great visibility. To do this you will want to wet a clean microfiber cloth with rubbing alcohol and wipe down the inside of the window.
Another round of glass cleaner or a glass polish applied at the end can help give the window even better transparency.
Can You Used Windex on Car Windows?
Yes, you can use Windex on car windows and to clean the inside of your windshield. While some will advise you to skip the Windex with tinted windows, there's no evidence that Windex with ammonia causes problems. If your windows have been tinted by a third party, you may want to play it safe and skip it. But, if they were tinted at the factory, you won't have any problems. If you're using Windex inside the car, make sure you don't get the cleaner on any leather upholstery as it can dry it out. If you have any concerns about your cleaning products, feel free to contact us at Wolfchase Honda for recommendations.
More Car Windshield Cleaning Tips
Did you clean inside your car windshield and still have spots? These additional steps can help:
Make sure to use a microfiber cleaning cloth. They eliminate the small paper fibers you get when cleaning with paper towels.
They're also less likely to leave streaks.
If you are having problems reaching certain parts of your windshield, use a reach-and-clean tool.
Use a circular motion when wiping with a microfiber cleaning cloth, but then wipe vertically at the end to remove streaks.
This cleaning process can be used with all interior windows, not just the windshield.
Wolfchase Honda Near Arlington: Your Car Care Experts
Once you've cleaned the inside of your windshield, feel free to turn to Wolfchase Honda for more car care tips! To learn how to check your transmission fluid or oil level, contact our service department in Bartlett today. We can provide guidance and answer common questions, like "What is antifreeze?" And, we offer a rotating assortment of service specials so you can save on service!
More From Wolfchase Honda
Motor oil is important to the function of a Honda vehicle, and you should always make sure there's just the right amount. Keeping your oil at the proper level helps protect all of your engine's internal moving parts, whether you're sticking to the streets of Arlington or heading far from Cordova. Schedule Oil Change Learn…

Getting the dirt off the outside of your window can be as simple as driving through a car wash, but what do you do to get the inside clean? When it comes to cleaning inside, the windshield and windows are pretty simple to do. First, you'll just need to acquire a microfiber towel, glass cleaner,…

Part of owning and caring for a car is knowing how to check that everything is running properly, from oil to tires to transmission. Understanding how to check your transmission fluid can help prevent an unexpected visit to the Honda service center and keep you behind the wheel of a safer car around Arlington. Schedule Service…